The
Tuk-Tuk Truck
is a vehicle in
fiction by GMRE
.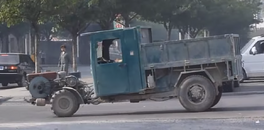 Description
Edit
It tuns out that having all your infrastructure blown up (including water towers at remote villages) really does not help your economy, just ask any panauan.
With their nation mostly in ruins, they had a hard time affording good vehicles, so they were forced to improvise. This resulted in the cheapest trucks in the Just Cause Universe (so far). Being an improvised design, these vehicles can differ greatly from each other, due to having been assembled out of random spare parts and random available engines. Many of them use restored engines from former Panau Military vehicles.
The engine is on a separate turnable front frame and completely exposed. This makes it very simple in design and very easy to maintain, however the vehicle is limited to front wheel drive only. On some, the front frame is turned using hydraulic cylinders, while on others there seems to be some kind of a mechanical system.
Performance
Edit
Some are somewhat decently powerful at lower speeds, but they all have poor maximum speed. Handling is also poor due to being hard to turn. Front-wheel-drive trucks are normally never made, because a loaded truck has well over a half of its mass on the rear wheels. This results in very poor off-road performance, while the vehicle is loaded.
Maximum speed while empty: Up to 60 km/h.
Maximum speed while loaded: Up to 50 km/h on a good road.
Cargo capacity: 3 to 5 metric tonnes, depending on the version.
Community content is available under
CC-BY-SA
unless otherwise noted.