The
AVIA taxi
is a car in
fiction by GMRE
and
New and Improved Medici
.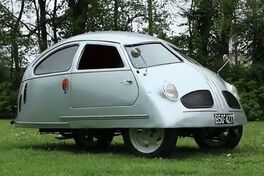 Description and history
Edit
It was developed in 1989 by AVIA at the request of companies like LOL Air. Apparently there were a lot of situations where flights were delayed because some 1 aircraft crewman was slightly late for work, or had to go to the toilet. The car is meant to deliver that 1 person to the far end of an airport where he should be.
Simply buying a normal car was never considered an option, because simply using an agricultural tractor to tow your aircraft is also not an option. Of course it had to be a special vehicle from AVIA.
Performance
Edit
Normally a 3-wheel car is a bit unstable, but there's hardly a need to turn when traveling in mostly straight lines at the airport. Also, the car is relatively aerodynamic, to better handle the strong winds from aircraft engines.
It's a very cheap low-end car, never meant to be sold to the general public, but meant for the role of a sports car, so... yeah... this is not good. In fact the airlines would likely have saved money by buying sports cars.
Locations
Edit
At several airports, parked among the other airport vehicles.
Based on a 1951 Hoffman
Anachronistic development time period
The real one is actually from 1951:
Community content is available under
CC-BY-SA
unless otherwise noted.